Cabinet Painting
Nunez Painting offers excellent cabinet painting services that can greatly improve the look and feel of a kitchen or home. The company's skilled painters use high-quality paint and techniques to give cabinets a fresh, new look.
Cabinet painting is a great solution for updating the appearance of a kitchen or home without the cost and hassle of a full remodel. It is an affordable way to change the color scheme, add a pop of color, or simply refresh the existing look of the cabinets. Additionally, painting cabinets is a great way to protect them from wear and tear, and make them last longer.
Overall, Nunez Painting's cabinet painting services can give your kitchen or home a whole new look and feel, while also providing a cost-effective and convenient solution.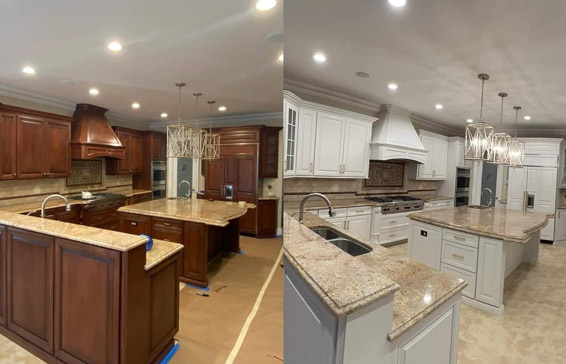 Check out a few of our work samples.
Residential Interior Painting Specialty Paints & Finishes

Color Matching

Touch-ups

Cabinet Refinishing & Repainting

Stain and Coat
Popcorn Ceiling Removal

Wall Paper Removal

Deck Staining Services

Concrete Stain & Epoxy

Fence & Wall Paint
HAVE A QUESTION? DROP US A LINE, ANYTIME!
If you are a general contractor or a home owner searching for a paint contractor, we look forward to hearing from you. Nunez Painting Company will make every effort to serve your needs in a timely and cost efficient manner. Call us today for a free consultation! No project deposit required.